Jump to Recipe
These Apple Pie Lattice Cookies. What can I really say about them, other than I might not be prouder of any recipe I have ever made! These Apple Pie Lattice Cookies.. I saw one of those cooking videos on some social media outlet, something similar to these. And I decided that I wanted to try and make my own, but that recipe (I can't remember which site it was from) was made using pre made apple pie filling and pie crust, and I didn't want to do it that way. I wanted to go from scratch all the way, and I am so glad that I did!
I used the recipe that my Dad always uses for his apple pies, and they were amazing! The thing that I like most about these is that eating them is like eating apple pie, but you don't need a fork or a bowl, you can just grab one and go!
I've never made a lattice before, and with how small these are it definitely isn't the easiest thing to make, the weave is very small, but it's well worth the effort you put into making them!
Let us know what you think of our Apple Pie Lattice Cookies and comment below with any questions/suggestions! Be sure and sign up for our Newsletter where we will be posting and sending out recipes we are going to make and giving you the opportunity to give us suggestions for what we should make next! Enjoy!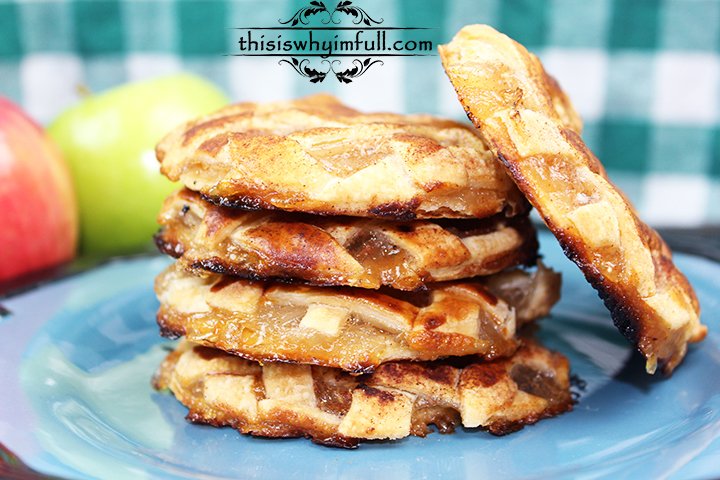 Lattice Apple Pie Cookies
Ingredients
Filling:
2

large Granny Smith Apples

2

large Pink Lady apple

1

stick Butter

3

tbsp

All-purpose flour

1/4

cup

Water

1/2

cup

white sugar

1/2

cup

Brown sugar

1

tsp

heapingcinnamon heaping

1/4

tsp

nutmeg

1

tsp

Vanilla
Crust:
1-3/4

cup

All-purpose flour

1

tsp

Sugar

1/2

tsp

Salt

1

stick cold butter cut into slices

3

tbsp

shortening chilled

1/4

cup

ice water + 2 tbsp

approximately
Instructions
Crust:
Place flour, salt and sugar in a food processor. Pulse.

Add butter and shortening and pulse until the mixture turns into coarse crumbs.

Slowly add the ice water and pulse until the dough gathers up into a ball. If it doesn't after a few seconds, add a few more drops of ice water until it does.

Take the dough and flatten it into a disc and place it on a sheet of floured plastic wrap. Refrigerate for about 30 minutes before rolling.
Filling:
You need to chop your apples very small for these cookies to work!

Place the peeled, cored, and chopped apples in a large bowl. Set aside.

Preheat oven to 425 degrees.

In a medium sauce pan, melt butter over medium heat. Add the 3 tbsp of flour and mix well, forming a paste. Add the water, sugars, cinnamon, nutmeg, and vanilla and mix well. Bring to a boil for 1 minute, then reduce heat to a simmer for an additional minute.

Remove from heat and reserve about 1/3 cup of sauce for your lattice crust.

Add remaining sauce to apples. Toss well.

Take your pie crust out of the refrigerator and cut it in half, rolling each half out thinly.

Take one rolled out piece of dough and cut it into thin strips, make it into a lattice.

Once you have your lattice prepared take your pie filling and spread it over your non-lattice pie crust, be sure to not over pack the crust with filling, the lattice can only stretch so much!

Once your crust is evenly covered take your lattice and lay it over the top of the other crust, pressing the edges down slightly.

Using either a round cookie cutter or a wide-mouth mason jar cut your cookies out of the filled crusts

(There will be some wasted pie, but check out our Scr-Apple Pie! I will include the link in the description! You will never waste crust or filling again!)

Place the cut cookies onto a cookie sheet lined with parchment paper

Brush the tops with the sauce that you kept aside

Bake at 350 degrees for 12-15 minutes or until the crust is golden brown

Let cool, and enjoy!